World War I in La Plata County
In 2017, the La Plata County Historical Society commemorated the 100th anniversary of America's entry into World War I. An exhibit at the Animas Museum explored how the war affected the county. Ongoing programming explored women's roles, the influenza pandemic, General John "Black Jack" Pershing, the French 75 cocktail, all culminating with the ringing of the school bell on November 11, 2018. For this work, the Museum was awarded an Honorable Mention by History Colorado in 2019.
In this online exhibit, we have preserved the highlights of that in-person exhibit.
War is Declared
On June 28, 1914, Archduke Francis Ferdinand, heir to the Austrian throne, is assassinated, prompting a flurry of conflict. Austro-Hungary declares war on Serbia and much of the rest of Europe chooses up sides: Germany declares war on Russia; Germany invades Belgium; Britain declares war on Germany; Austria faces off against Russia and Belgium; Serbia and Montenegro declare war on Germany; British troops land in France; France and Britain declare war on Austria; Russia, France, and Britain declare war on Turkey; and the Russians invade East Prussia.
The war is beneficial to the United States economy and particularly favors Colorado, where prices for goods rise, values escalate, money flows freely, and salaries increase. Farmers, manufacturers, and stockmen collect handsome profits. But the boom is temporary and soon it becomes evident that despite America's earnest efforts to maintain neutrality, the county must become actively involved in the European conflict. The United States declares war against imperial Germany on April 6, 1917.
Without a waver, Coloradans are foursquare behind the war effort. Patriotism is at a fever pitch. Governor Julius C. Gunter summons a special session of the legislature – the first state in the union making such a move - to plan for hardships and tribulations which surely will come. Colorado civic leaders form the Council of Defense – another national first – to plan for conservation of resources and protection of the home front, because so many of the state's finest sons surely will ship out to France.
From Colorado Heritage magazine, a publication of the Colorado Historical Society, Winter 1992. Available in the Animas Museum Research Library.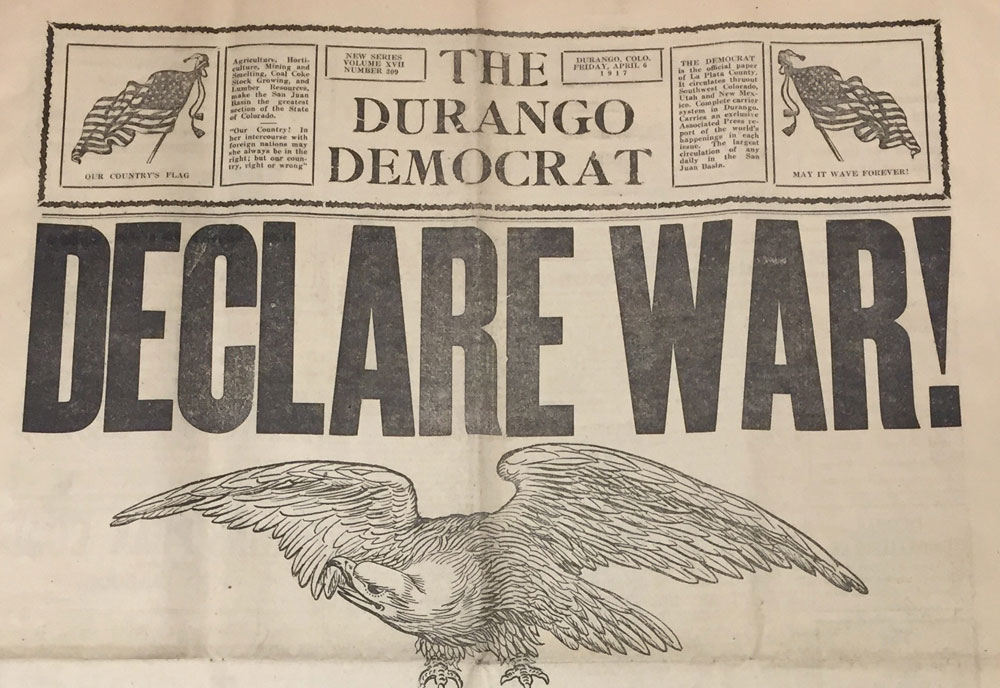 On April 4, 1918, President Woodrow Wilson asked Congress to declare war on Germany. The country started to mobilize for war.